The Fort Lauderdale International Boat Show is the world's largest in-water show and attracts over 100,000 visitors to the Fort Lauderdale area. Is it any wonder we get a little excited this time of year? Even if you're not an avid boat show attendee like me there is no denying how important the show is for our local economy. The event is estimated to have a $500 million economic impact on Broward County every year where our marine industry is responsible for supporting 90,000 local jobs. Phil Purcell, executive director of the Marine Industries Association of South Florida says, "We're a marine hub to the world that's like no other."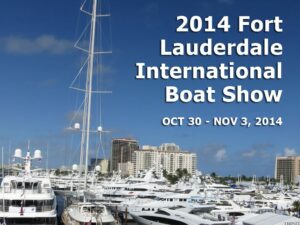 New 2014 Attractions
Joining this year's lineup will be the Boat Show Film Festival and AquaZone by Nautical Adventures. AquaZone will feature live paddleboard, kayak, hovercraft and free-diving demonstrations in a 15,000 gallon pool at the convention center. Also at the convention center the Film Festival will showcase films from the Guy Harvey Ocean Conservancy and the Fort Lauderdale International Film Festival.
BOAT SHOW TIPS – Venue, tickets, parking, etc.

The boat show attracts yachties and boating enthusiasts from all over the world. Whether you are a boat show regular or a first timer, here are some tips for attendees that are sure to help you efficiently navigate our show.
The show is spread out between the Greater Fort Lauderdale/Broward County Convention Center and the various marinas at Bahia Mar Yachting Center, Hall of Fame Marina, Las Olas Marina, Sails Marina and The Fort Lauderdale Hilton. Also, rejoining this year is Pier 66 with its $20 million upgrade. The convention center hosts the exhibits, booths and smaller boat displays and the big boy boats are all at the marinas. You can go between the various locations by shuttle bus or water taxi.
You can buy tickets at the show or online for $22 for one day or $40 for a 2 day pass. Children ages 6 to 15 are $9 and children under 6 are free. The busiest days are Saturday and Sunday, so if you don't like the crowds try to go Thursday, Friday morning, or Monday. The Primetime Preview on Thursday is more expensive ($40), but worth it if you want the first chance to buy your dream boat. Yes, the good ones do sell early in the show, especially if the weather is good.
Current forecast is calling for temps in the low to mid 80s with the chance for rain at only 10%!
Parking close by can be difficult and expensive, so consider taking a taxi, especially if you want to be at the Bahia Mar, Hall of Fame and Pier 66 Marinas. Another good option is to park at the convention center and take the bus or water shuttle to the marinas. You can also jump on the water taxi from any stop in Fort Lauderdale and connect to all of the boat show locations. Here is the full schedule and link to the Show Management web site:
BOAT SHOW SCHEDULE
October 30 to November 3, 2014
Prime Time Preview:
Thurs. Oct 30, 10am – 7pm
General Admission:
Fri. Oct 31, 10am – 7pm
Sat. Nov 1, 10am – 7pm
Sun. Nov 2, 10am – 7pm
Mon. Nov 3, 10am – 5pm
TICKETS: $22 online or $24 at the show.
Go to the Show Management web site for more information