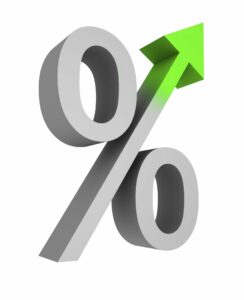 The Federal Open Market Committee (FOMC) approved an increase of the federal funds rate this week, the first increase since 2006. "Given the economic outlook, and recognizing the time it takes for policy actions to affect future economic conditions, the committee decided to raise the target range for the federal funds rate to ¼ to ½ percent," the FOMC's post-meeting statement said. The committee also voted to raise the discount rate a quarter-point to 1 percent. The fed stressed that it plans to move slowly and will gradually continue to move rates higher.
Will Mortgage Rates Also Increase?
The average 30 year fixed mortgage rate in Florida today was 3.77%, virtually unchanged from a week ago. Most experts agree that mortgage rates will not be immediately affected by the Fed's recent funds rate hike and should stay below 4%, at least in the short term. The reason is that mortgage rates are more tied to the bond market than the federal funds rate. Mortgage rates are tied closest to the yield on a 10 year US Treasury Bond, which went down yesterday. However, we should expect more buyers to enter the marketplace based on fear of future rate hikes and the eventual longer term affect on mortgage rates. If you need a mortgage to purchase a home then I wouldn't wait too much longer, but there is certainly no need to panic. You still have time to enjoy historically low mortgage rates.
Watch Overall Affordability and Inventory Levels
Mortgage rates are just one piece of the puzzle. Median home prices are still on the rise in many of our local Fort Lauderdale markets. Affordability should be a concern for buyers and sellers in many markets. If you are planning to buy or sell in the near future, speak with your REALTOR® about rates, median prices and inventory in your area before making that important buy or sell decision.