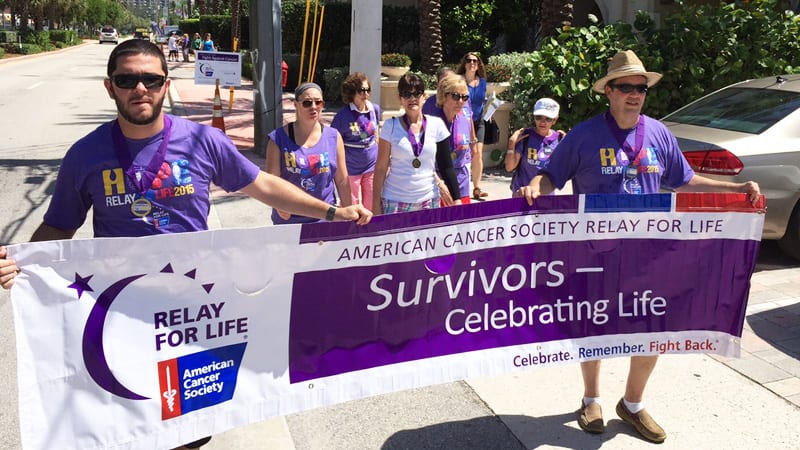 Please join us Saturday, April 8th for an amazing day of fun, music, food and fundraising for the American Cancer Society. The weather should be perfect with temperatures around 70 degrees at 11:00 AM. If you cannot make the event, please consider a small donation at our Relay for Life web site:
Join our Team or Make a Donation Here:
http://main.acsevents.org/goto/bythesea
Entertainment Schedule:
Below is our entertainment schedule so you can plan in advance.
10:30 AM

11:00 AM

Warm Up with Crunch Fitness

11:00 AM

11:30 AM

Opening Ceremony

11:30 AM

11:45 AM

Survivor/Caregiver Recognition

11:45 AM

12:15 PM

Band: School of Rock

1:00 PM

1:45 PM

Band: Sippin Fire

2:00 PM

2:15 PM

Singer: Madeline Diamond

2:15 PM

3:30 PM

Band: Jaded

3:30 PM

4:00 PM

Spirit of

Relay

/Closing Ceremonies
Ticket System:
We will be using a ticket system on the field. If you would like to use your credit or debit card to make a donation at a team campsite, please first go to the Registration Tent to exchange your donation into tickets. Each ticket is equivalent to $1 and can be used anywhere on the field.
Volunteers Needed
We are looking for volunteers to help us out for set up and at the American Cancer Society tables. If you or anyone you know is available to help out, please let us know soon. Set up will begin at 7am and our shifts are only a maximum of 2.5 hours.