The "Yachting Capital of the World" hosts the Fort Lauderdale International Boat Show Wednesday, October 30th through Sunday November 3rd, 2019
With over 1,500 boats on display, 1,200 exhibitors and 6 miles of floating docks spread across 7 locations, the Fort Lauderdale International Boat Show is the largest in-water boat show in the world. It is also a huge boost to our local economy with an estimated impact on Broward County of $500 million per year thanks to the more than 110,000 visitors from 52 countries. This boat show definitely has something for everyone.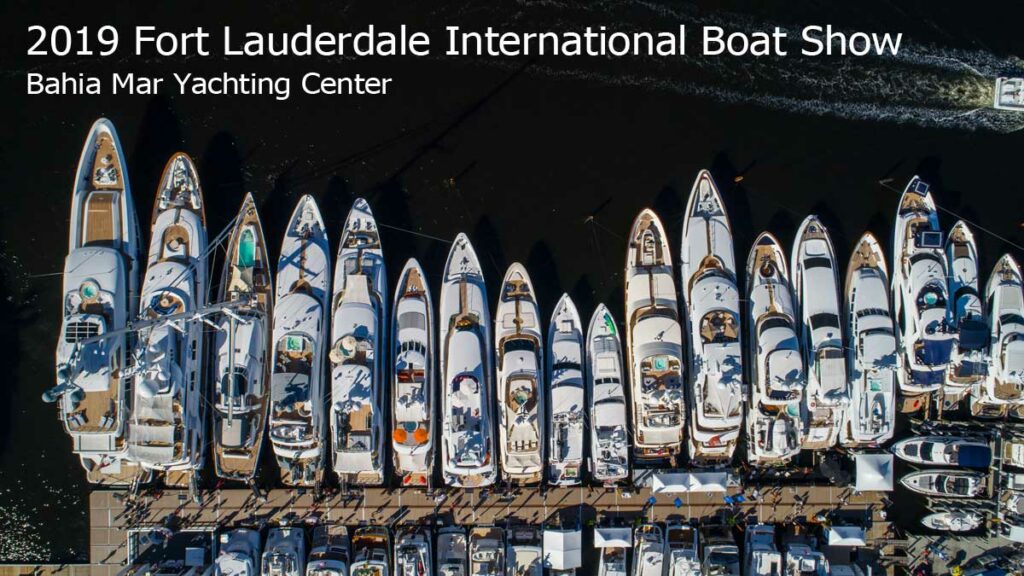 BOOK A PROPERTY TOUR WITH ONE OF OUR AGENTS AND GET FREE BOAT SHOW TICKETS!
BOAT SHOW TIPS – Venues, tickets, parking, special events, experiences, etc.
Whether you are a boat show regular or a first timer, here are some tips and highlights for attendees that are sure to help you efficiently navigate our show. The Greater Fort Lauderdale/Broward County Convention Center hosts the exhibits, booths and smaller boat displays. If you're looking for the big-boy boats, including the mega yachts and large sport fishers, then Bahia Mar is the place to be. You can go between the various locations by shuttle bus or water taxi. The show is spread out between the following venues.
Greater Fort Lauderdale / Broward County Convention Center / Sailfish Pavilion
Bahia Mar Yachting Center
Hall of Fame Marina
Las Olas Municipal Marina
The Sails Marina
Fort Lauderdale Hilton Marina
SuperYacht Village at Pier South (Pier 66)
WINDWARD VIP CLUB
Located in the heart of the show on the main dock at Bahia Mar, the Windward VIP Club features a beautiful air conditioned arched tent with outdoor terraces offering shore and water views. This boat show sanctuary provides guests with a premium open bar and gourmet food all day and throughout the evening.
More Information on VIP Club
HOOK THE FUTURE – KIDS FISHING CLINICS
Bring the whole family and introduce the kids to fishing at the boat show. Hosted by Captain Don Dingman and open to kids ages 4-16, fishing education classes will be held on Saturday and Sunday at the Convention Center.
More Information on Kids Fishing Clinics
2nd ANNUAL YACHT CHEF COMPETITION
Don't miss the 2nd Annual Sunset Soiree & Yacht Chef Competition in the center of Superyacht Village at the Pier 66 Marina on November 1st from 7:30 PM to 10:30 PM. The evening will offer guests premium craft cocktails and tastings while enjoying entertainment by the Wheeland Brothers.
Tickets and More Information
SHOW TICKETS
You can buy tickets at the show or online for $34 for one day or $59.00 for a 2 day pass. Children ages 6 to 15 are $15 and children under 6 are free. The busiest days are Saturday and Sunday, so if you don't like the crowds try to go Wednesday, Thursday or Friday morning. The Primetime Preview on Wednesday is more expensive ($53.00), but worth it if you want the first chance to buy your dream boat. Yes, the good ones do sell early in the show, especially if the weather is good.
Buy Tickets Online
PARKING AND TRANSPORTATION
Parking close by can be difficult and expensive, so consider taking Uber or a taxi, especially if you want to be at the Bahia Mar, Hall of Fame and Pier 66 Marinas. Another good option is to park at the convention center and take the bus or water shuttle to the marinas. You can also jump on the water taxi from any stop in Fort Lauderdale and connect to all of the boat show locations. All day water taxi passes are only $12. Valet parking is also available at the Las Olas Marina (expensive) or at Galleria Mall. From the Galleria Mall you can walk to the Gallery One Doubletree Hotel and take the water taxi from there.
Are you coming from Palm Beach or Miami? Take the Brightline!
More info on Parking and Transportation
BOAT SHOW SCHEDULE
October 30th to November 3rd, 2019
Prime Time Preview:
Wednesday, October 30th, Noon – 7:00 p.m.
General Admission:
Thursday, October 31st, 10:00 a.m. – 7:00 p.m.
Friday, November 1st, 10:00 a.m. – 7:00 p.m.
Saturday, November 2nd, 10:00 a.m. – 7:00 p.m.
Sunday, November 3rd, 10:00 a.m. – 6:00 p.m.
TICKETS: $34 (Prime Time Preview is $53)
Go to the Fort Lauderdale Boat Show web site for more information
IF YOU BUY A BOAT AND NEED A NEW HOME OR CONDO WITH A DOCK, PLEASE GIVE US A CALL OR BROWSE PROPERTY ON OUR WATERFRONT REAL ESTATE WEB SITE