Updated 10/26/22 – The "Venice of America" presents
The Greatest Boat Show on the Seven Seas!
Wednesday, October 26th through Sunday October 30th, 2022
The Fort Lauderdale International Boat Show (FLIBS) is the largest in-water boat show in the world and is a huge boost to our economy, to the tune of $1.79 billion in economic output throughout the state of Florida. The show attracts on average 100,000 attendees and 1,000 exhibitors from around the world. Products on display range from artwork by Guy Harvey to 200 foot mega yachts, and everything in between including marine electronics, fishing equipment and over 1,300 boats. Even non-boaters will love the energy and excitement of the Fort Lauderdale Boat Show, as well as the upscale food and drink options.
Weather update – Sun, sun, sun!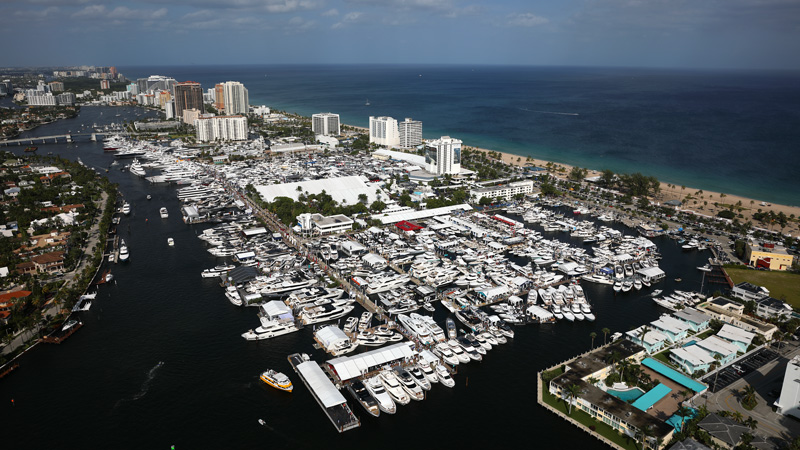 BOOK A PROPERTY TOUR WITH ONE OF OUR AGENTS AND GET FREE BOAT SHOW TICKETS!
BOAT SHOW TIPS – Venues, tickets, parking and special events
The following tips should help you to navigate your way to the boat show and to locate the exhibits and boats you're looking for. The Broward County Convention Center hosts the smaller boats, outboard motors, fishing gear and other booths and exhibits. The "Big Boy" boats, including the mega yachts and large sportfish boats are located at the Bahia Mar Yachting Center on the barrier island. More "Super Yachts" can be found at Pier 66 and the Hilton. You can go between the various show venues by shuttle bus or the Fort Lauderdale water taxi.
VENUES
Bahia Mar Yachting Center
Broward County Convention Center
Hall of Fame Marina
Las Olas Marina
Fort Lauderdale Hilton Marina
Pier 66 Marina
SuperYacht Village at Pier 66 South

---
FORT LAUDERDALE BOAT SHOW EXPERIENCES
Windward VIP Club
VIP ticket holders receive access to the VIP Club at the Bahia Mar Captain's Lounge, with outdoor terraces offering yacht and water views. This boat show sanctuary provides guests with early show access (9:00 AM), a premium open bar and gourmet food all day. Other perks include complimentary water shuttle service, private restrooms and the optional VIP Classic Cars Event at Fort Lauderdale Concours.
Tip: VIP Tickets usually sell out, so buy them in advance.
More Information on VIP Club
Upscale Culinary Experience
Find everything you are craving, from Greek gyros to authentic street tacos and hand-crafted burgers. Other amazing seafood options include stone crabs, calamari and oysters. There are even vegetarian, vegan and gluten-free options. Upscale beverages include craft beers from local breweries, premium wines and specialty cocktails.
Boat Show Fun for the Whole Family!
Bring the whole family to the boat show and enjoy face painting, marine arts and crafts, and much more. "Hook the Future" kids fishing classes with Captain Don Dingman will be held on Saturday and Sunday at the Convention Center. Finally, don't miss the Winterfest Holiday Corner where families can meet Santa Claus and his friends.
Superyacht Village
Located at the new "Pier South" at Pier 66 Hotel and Marina, Superyacht Village features the largest vessels at the show. General admission ticket holders can access the marina by tender and shuttle bus. There is also valet and self-parking, when available.
More information on Superyacht Village
Aquazone – Watersport Demos
The AquaZone, featuring a 40,000 gallon freshwater pool, is presented by Nautical Ventures and is open all day with regular demonstrations from 11:00 AM to 6:00 PM. Bigger and better than ever, this amazing exhibit at is located at the convention center and is designed to give show attendees a first hand experience with various innovative water sports and marine products.
More information on AquaZone
---
Get Out of the Heat
The weather is generally pretty mild this time of year, but if you need to escape the heat and maybe have a cool drink then there are plenty of options available.
Accessories Tent
Marine Electronics Tent
SuperYacht Tent (Tiki Bar)
Convention Center
Winward VIP Experience (VIP ticket required)
---
SHOW TICKETS
You can buy tickets at the show or online for $39 for a one day pass or $66 for two days. Children ages 6 to 15 are $15 and children under 6 are free. The busiest days are Saturday and Sunday, so if you don't like the crowds try to go Wednesday, Thursday or Friday morning. The Primetime Preview on Wednesday is more expensive ($60), but worth it if you want the first chance to buy your dream boat. Yes, the good ones do sell early in the show, especially if the weather is good. VIP tickets are also available on-line for $375 and they typically do sell out.
Buy Tickets Online
---
PARKING AND TRANSPORTATION
Parking close by can be difficult and expensive, so consider taking Uber or a taxi, especially if you want to go to the in-water exhibits at the Bahia Mar Marina, Hall of Fame Marina and Pier 66 Marinas. Another good option is to park at the convention center and then take the bus or water taxi to the marinas. You can also jump on the water taxi from any stop in Fort Lauderdale and connect to all of the boat show venues. All day water taxi passes are only $15 or $65 for a 5 day pass. Valet parking is also available at the Las Olas Marina (expensive) or at Galleria Mall. From the Galleria Mall you can walk to the Gallery One Doubletree Hotel and take the water taxi from there.
More information on Shuttles and Parking
---
BOAT SHOW SCHEDULE
October 26th to October 30th, 2022
Prime Time Preview:
Wednesday, October 26th, Noon – 7:00 p.m.
General Admission:
Thursday, October 27th, 10:00 a.m. – 7:00 p.m.
Friday, October 28th, 10:00 a.m. – 7:00 p.m.
Saturday, October 29th, 10:00 a.m. – 7:00 p.m.
Sunday, October 30th, 10:00 a.m. – 6:00 p.m.
TICKETS: $39 (Prime Time Preview is $60)
Visit the FLIBS web site for more information
IF YOU BUY A BOAT AND NEED A NEW HOME OR CONDO WITH A DOCK, PLEASE GIVE US A CALL OR BROWSE PROPERTY ON OUR WATERFRONT REAL ESTATE WEB SITE