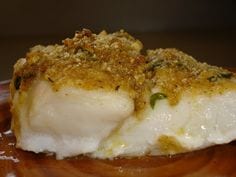 This healthy recipe works great with most fish fillets including Sea Bass and Mahi Mahi, but my favorite is Yellowtail Snapper. The fish really comes out crispy and moist, without frying!
Ingredients
2 eggs
1 tbs water
1/3 cup bread crumbs
1/3 cup grated Parmesan cheese
1/3 cup instant mashed potato flakes
1/2 tsp sea salt
1/2 tsp fresh ground pepper
1/4 tsp cayenne pepper (or to taste)
4 (4 oz.) snapper filets
Sprig of your favorite fresh herb (optional)
Preparation
Preheat an oven to 450 degrees F. Grease a baking sheet.

Beat the eggs and water together in a bowl until smooth; set aside. Combine the bread crumbs, Parmesan cheese and potato flakes in a mixing bowl with the spices until evenly mixed. Dip the walleye fillets into the egg, then press into the bread crumb mixture covering thoroughly. Place onto the prepared baking sheet.

Bake until the fish is opaque in the center and flakes off easily with a fork, about 15 to 20 minutes.
Serve with your favorite rice or quinoa, roasted or steamed vegetables and lemon wedges.
Pair with Sauvignon Blanc or your favorite ice cold lager. Enjoy!