An Italian Classic with a Florida Twist
Cioppino is a classic Italian seafood stew originating from San Francisco and traditionally made from the "catch of the day" which typically includes crab, mussels, fish, squid, scallops and shrimp. With our plentiful seafood here in Florida it is easy to make Cioppino with a Florida twist. I typically make this with Florida grouper, pink shrimp and mussels, but spiny lobster and stone crabs are always a welcome addition. Grouper is a good choice because it sturdy and won't break down in the broth. Be sure to buy plenty of bread for dipping. Sourdough is my favorite.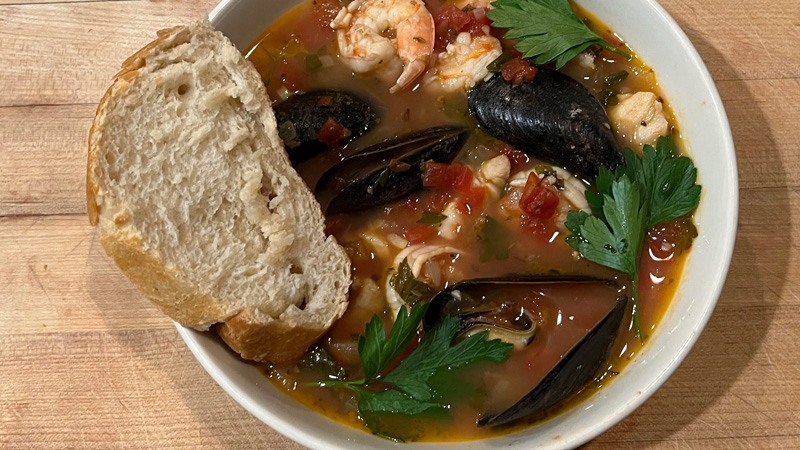 Ingredients
2 tablespoons butter
2 tablespoons olive oil
1 large shallot, chopped
1 medium onion, chopped
4 cloves garlic, chopped
1/2 cup chopped parsley
1/2 teaspoon red pepper flakes
2 cups dry white wine
1 (6 oz) can of tomato paste
1 (28 oz) can of diced tomatoes
4 cups fish stock or clam juice
1 bay leaf
2 teaspoons basil
1 teaspoon oregano
1 teaspoon thyme
1 teaspoon Worcestershire sauce
1/2 teaspoon sea salt
1 teaspoon ground black pepper
1 teaspoon sugar
1 pound mussels
1 pound shrimp
1 pound grouper
Sourdough bread
Directions
Melt butter in large pot, add the olive oil, onion and shallot, and saute over medium low heat until translucent.
Add the garlic, parsley and red pepper flakes, and saute an additional 2 minutes.
Stir in wine and simmer on high until wine is reduced by half.
Stir in the tomato paste, diced tomatoes, fish stock, bay leaf, basil, oregano, thyme, salt, pepper, sugar and Worcestershire sauce. Reduce heat to low, cover and simmer for 30 minutes.
Add the mussels to the mixture, cover and cook until mussels begin to open. Add the shrimp and fish, and simmer until the shrimp and fish are cooked through, and until the mussels are completely open.
Adjust the seasoning with salt, pepper and red pepper flakes.
Ladle into bowls, garnish with parsley and serve with sourdough for dipping. Enjoy!
Cioppino pairs well with a Sauvignon Blanc, Zinfandel or dry Rose.