This Argentinian version of surf and turf is full of flavor and one of my favorite meals to cook on the grill. The sauce is easy to make, but if you want high quality skirt steaks already marinated in Chimichurri then try Fresh Market. They usually have good local shrimp there too. In this version of my meal I also use a Himalayan salt plate, so if you don't have one already then you may want to Google it.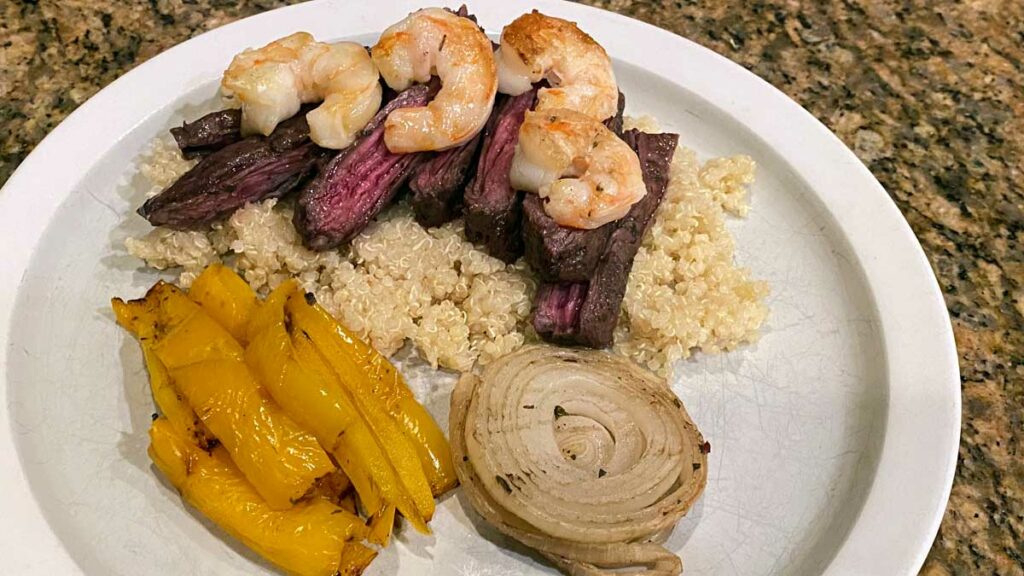 INGREDIENTS
1/2 cup olive oil
3 T red wine vinegar
4 cloves of garlic
1/2 tsp salt
1/2 tsp cumin
1/2 tsp red pepper flakes
1/2 tsp ground black pepper
1 cup fresh parsley, no stems
1/2 cup fresh cilantro
1/4 cup fresh oregano
1 1/2 lbs skirt steaks, trimmed and cut into 4 servings
1 lb wild Florida shrimp (21-25 count). Don't go too big if using a salt plate.
1 large sweet onion
4 bell peppers. I like red and yellow.
1 cup rice or quinoa
2 T lime juice
1 T butter
1/4 cup fresh cilantro
INSTRUCTIONS
Combine oil, vinegar, garlic, salt, cumin, red pepper flakes, black pepper, parsley, cilantro and oregano in blender.
Pulse blender until thick sauce forms, stopping occasionally to scrape down the sides using a rubber spatula.
Marinate skirt steak in sauce for at least 30 minutes in refrigerator, or overnight. Reserve some sauce for serving.
Heat your grill. Optional: pre-heat salt plate for 45 minutes on grill or in oven.
Cook rice or quinoa. Stir in lime juice, butter and fresh cilantro prior to serving.
Slice vegetables and lightly season with olive oil, salt and pepper. When using a salt plate I like to start the bell peppers on the salt plate and then finish them on the grill. I slice my onions in thick wedges and sear them over the flame.
Clean shrimp and put on skewers, tails on or off.
 Sear skirt steaks 5-8 minutes per side depending on temp preference.
Cook shrimp on salt plate or directly over flame until pink, about 2-3 minutes per side.
Serve steak, shrimp and veggies with extra Chimichurri sauce and rice.
Enjoy!