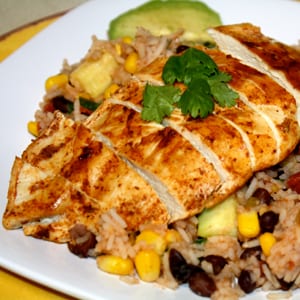 This version of the Florida Keys recipe is quick and easy, and healthy! You can marinade the chicken in as little as 30 minutes, or overnight for more flavor. This chicken is delicious when served with any Caribbean style beans and rice, and plantains. For a lighter meal try serving it with your favorite salad. For lunch, make it into a sandwich and serve with cole slaw. Enjoy!
INGREDIENTS
3 tablespoons soy sauce or coconut aminos
1 tablespoon honey
1 tablespoon oil (coconut, olive or vegetable)
1 tablespoon lime juice (fresh key limes if available)
1 teaspoon chopped garlic
1/2 teaspoon smoked paprika
1/2 teaspoon cayenne pepper (optional)
4 skinless, boneless chicken breast halves
CHICKEN PREPARATION
Trim and pound breasts to make them even thickness, about 3/4 inch to one inch thick.
Whisk all ingredients together. Marinate breasts in a ziploc bag or shallow covered container for at least 30 minutes in the refrigerator (overnight is better).
Preheat your gas or charcoal grill for high heat.
If you have time, remove the chicken from the refrigerator 20-30 minutes before grilling. Breasts will cook more evenly starting at room temperature.
Clean and lightly oil the grill grate. Grill chicken 6-8 minutes on each side until internal temperature is 165 degrees.
Let chicken rest for a few minutes before serving.
Alternate grilling method: Grilled chicken breasts can easily turn into "hockey pucks", overly charred on the outside when trying to achieve the right internal temperature. Try this reverse searing method for perfectly cooked breasts. Prepare your grill for indirect heat by turning off half your gas flames or putting charcoal on one side. Place chicken on "indirect" side of grill and cook for 10-12 minutes undisturbed. Flip and cook another 10-12 minutes until internal temperature is 140 degrees. Then cook directly over the heat for about 5 minutes per side until internal temperature reaches 165 degrees.
Serve with rice and beans, and plantains. Garnish with parsley or cilantro.