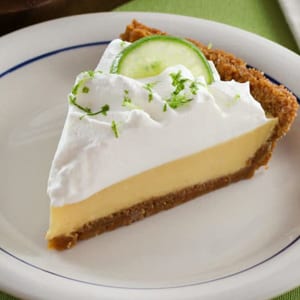 A Florida favorite, this pie is actually pretty easy to make. If you must substitute or if you are short on time, then you can certainly use a pre-made frozen graham cracker crust, but its just not the same. If you can't find key limes then try Nellie and Joe's Key West Lime Juice as a substitute.
Put a Florida twist on Thanksgiving Dinner!
Ingredients
1 1/4 cups graham cracker crumbs
2 tablespoons sugar
5 tablespoons unsalted butter, melted
1 (14-ounce) can sweetened condensed milk
4 large egg yolks
1/2 cup plus 2 tablespoons fresh or bottled key lime juice
1 tablespoon key lime zest
3/4 cup chilled heavy cream
1 tablespoon sugar
Preparation
Make crust:
Preheat oven to 350°F.
Stir together graham cracker crumbs, sugar, and butter in a bowl with a fork until combined well, then press mixture evenly onto bottom and up side of a 9-inch (4-cup) glass pie plate.
Bake crust in middle of oven 10 minutes and cool in pie plate on a rack. Leave oven on.
Make filling and bake pie:
Whisk together zest and yolks in a bowl until combined well. Add in condensed milk and mix well. Add juice and whisk until combined well (mixture will thicken slightly).
Pour filling into crust and bake in middle of oven 15 minutes. Cool pie completely on rack (filling will set as it cools), then chill, covered, at least 8 hours.
Make topping:
Just before serving, beat cream and 1 tablespoon of sugar in a bowl with an electric mixer until it just holds stiff peaks. Serve pie topped with cream, lime slices and just a pinch of lime zest.
Try this pie as a compliment to any of our Florida favorite recipes.