Ceviche with local pink shrimp and avocado
Key West Pink Shrimp are in season typically from November through June, so I always buy them when available. However, our local Gulf Shrimp are available year round and serve as a wonderful backup when the Key West shrimp aren't available. Ceviche is a common appetizer and entrée in many Florida restaurants, and if you haven't made it before then fear not, it is really quite easy. It is possible to prepare ceviche without cooking the shrimp by marinating it in citrus juices long enough that it "cooks" it in citric acid. However, many chefs prefer this method of preparing ceviche which involves quickly boiling the shrimp before marinating it.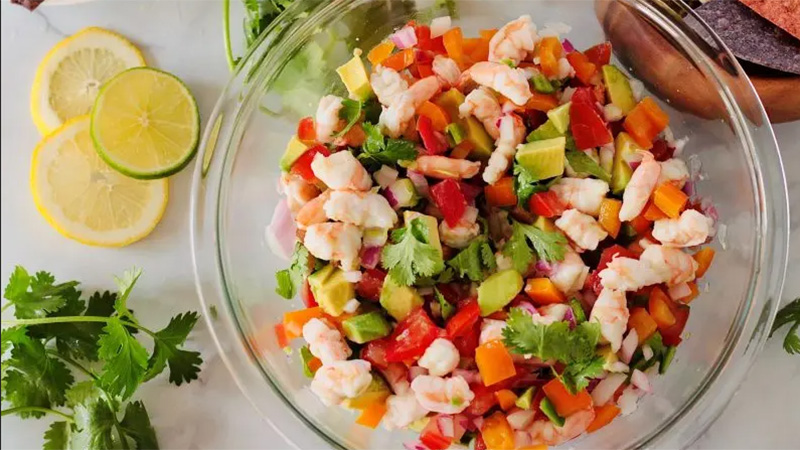 Ingredients
1 lb. Key West Pink Shrimp
1/2 cup fresh lime juice (key lime juice if available)
1/4 cup fresh orange juice
2 Tbsp. fresh lemon juice
2 Tbsp. olive or avocado oil
1/2 cup red onion finely diced
1/2 cup orange or yellow bell pepper finely diced
1 jalepeno finely diced (optional)
1 cup tomatoes finely diced (any kind)
1 cup avocado finely diced
1/2 cup chopped cliantro
Dash or 2 of your favorite hot sauce (optional)
1/2 tsp. salt
Instructions
Bring a large pot of water to a boil.
Add shrimp to boiling water and cook for only 1-2 minutes depending on size of shrimp. They should be cooked through and turn a light pink color. Don't overcook!
Immediately remove the shrimp and move them to a bowl of ice water to stop cooking. Once they are cool cut the shrimp into bite sized pieces. If they are small shrimp then you may leave them whole.
Combine the shrimp pieces, lime juice, orange juice, lemon juice, olive oil, salt and half of the cilantro in a large bowl. Cover and marinade in the refrigerator for at least 10 minutes.
Finely dice the onion, bell pepper, jalapeno (optional) and tomatoes. The finer the better for easy dipping!
Mix the vegetables into the bowl with the shrimp and marinade for at least another 10 minutes.
Just before serving stir in the remaining cilantro, avocado and hot sauce (optional).
Serve with lime wedges and plantain chips, or Tostones (recipe below).
---
How to Make Tostones
This is super easy, fast and delicious! Make sure you buy green plantains, although I prefer them to be just a bit yellow for a little extra sweetness. You just don't want the fully ripe brown plantains.
Ingredients
Green plantains
Olive or Avocado oil
2 cups water
1 lime
Salt
Instructions
Peel the plantains and cut into 1 inch round slices.
Heat the oil in a large skillet and fry the plantain slices about 3-4 minutes per side.
Remove the slices and flatten them by pressing down on them with a plate or other flat object.
Combine water and juice of 1 lime. Dip the plantain slices in the water and then return to the pan. Fry them for a couple more minutes on each side, or until you reach the desired crispiness. Salt to taste and serve hot.