Winner – 2021 Lobster Chef Competition at Bugfest
Yes, its spiny lobster season again in Florida and you can never have enough recipes for cooking up these tasty treats. Congratulations to the team from Gold Coast Scuba for winning this year's lobster chef competition at Bugfest in Lauderdale-by-the-Sea. I got a little taste of their lobster and it was insanely delicious. Kudos to Chefs Toby Washington and Susan Mitchell for your amazing recipe and execution!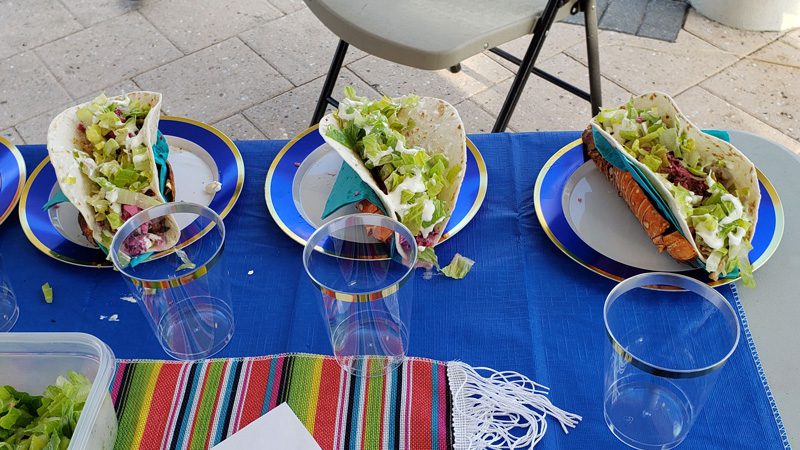 The Recipe:
Prep the spiny lobster tails by seasoning both sides with Old Bay Seasoning (you can use tails in or out of the shell)

Lobster tail baste: good for up to 4 tails
1 full stick of unsalted butter
2 crushed garlic cloves
2 tablespoons of bacon grease
3 full rosemary stems (cut into thirds)
5 full thyme stems (cut into thirds)

Place butter and grease in a heat safe container, and when the butter is half melted, throw in the remaining ingredients. Let the butter fully melt, give an occasional stir. Once the butter starts to bubble, you should be able to smell the aromatics. The baste is now ready to use.
Baste one side of the tails and place on the grill, basted side down. Baste the top. Flip after two minutes and repeat basting. Repeat flip every two minutes with a baste until tails are cocked. Remove from grill and chop into large chunks.

Lime Crema
8 oz of sour cream
1 lime zested and juiced
1 garlic clove, minced
1/2 teaspoon of kosher salt (1/4 tsp if using table salt)

Mix all the ingredients together in a bowl. Feel free to add salt in small amount to adjust to taste.

Spicy Citrus Slaw
1 cup of shredded purple cabbage
1 lime-juiced
1 lemon-juiced
1 teaspoon of kosher salt
1 serrano pepper – remove stem, cut in half and remove seeds and white pulp. once done, chop finely
1/4 lb of radishes chopped. (you can put the radishes and pepper into a food processor- yeah, lazy but quick!!)
2 tablespoons of mayonnaise (full fat)

Mix the cabbage, radishes, and pepper together. Then add the mayonnaise and salt. Mix well. Then add half of the lime and lemon juice. Depending on the size of the lime and lemon, you may not need all of the juice. So I would start with half of each and slowly increase to taste, it can go real sour really quickly.
Chopped Iceberg Lettuce
1 pack of small soft flour tortillas
Taco Construction (bottom to top):
Flour tortilla, lobster, spicy citrus slaw, lettuce, lime crema