Year End Data Shows Remarkable Consistency
The most popular segment in our South Florida market is definitely waterfront condominiums. These properties appeal to a wide range of buyers including second home owners, investors and even primary residences. Buyers come from all over the world as well as from our western suburbs to purchase these properties. The variety of condos in our marketplace is extensive with every price, size, location, view and amenity you can imagine. The bulk of these properties in Northeast Broward County are located east of US-1 on the ocean or Intracoastal waterway. Cities included in our report are Fort Lauderdale, Lauderdale-by-the-Sea, Pompano Beach, Lighthouse Point, Hillsboro Beach and Deerfield Beach.
For many years we have provided our customers with our custom Local Market Watch Reports for their specific neighborhoods and market segments. Our year end reports provide valuable insight and are released during the peak of activity in our local market. The following summary will look at 5 years of historic data, our 6 month analysis and a breakdown of inventory in different price ranges.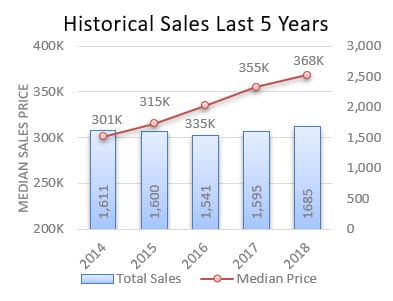 Sales over the 5 year period from 2014 to 2018 are remarkably consistent with annual median price gains averaging about 5% year-over-year and sales volume averaging about 1,600 units sold per year (see chart to the right).
Looking back at the past 6 months compared to the same period last year tells a slightly different story. Units sold are down 4.4% with median sales prices virtually flat dropping from $368,500 to $367,500. Price per square foot is also flat at $295/foot. Days on Market is down however with units selling in just 76 days, down from 92 days last year.
Like many parts of the country, the real story is in our inventory. List prices vary significantly in this segment with our low list price at $124,900 and the highest priced property at $11,000,000. Median list price for waterfront condos is $475,000. Sales per month are averaging about 115 units and at our current inventory level we have about 12 months of supply. However, like most property segments, inventory levels are quite different depending on the price range. See below for additional analysis on inventory levels.
Inventory Highlights of Waterfront Condos
Our median list price for waterfront condos in Northeast Broward County is $475,000. Lets take a look at sales volume, median prices and inventory levels above and below the median.
Condos Above $475,000
Sales volume in the upper price ranges increased about 35% over the past 2 years, which is likely attributable to new construction sales with buyers opting for higher priced new units instead of resales.
More recently over the past 6 months units sold are down about 6%, due in part to higher interest rates. Median prices in the segment are up about 8% however and price per square foot is up 12% which are likely affected by the reporting of new construction sales.
Looking at inventory, the segment is absorbing about 42 units per month which translates to 17 months of supply. Like many parts of the country we have excess inventory in the higher price ranges.
Condos Below $475,000
Sales volume was up slightly in 2018 with 1,080 units sold below median versus 1,059 units in 2017.
Over the past 6 months units sold are down 3.3% and median sales prices are also down 1.8%. Like the upper price ranges this is likely due to higher interest rates at the end of the year.
The big difference between the price segments is inventory. Below the median of $475,000 we are absorbing about 73 units per month which translates to just under 10 months of supply. While inventory is still above equilibrium, levels are not excessively high for the segment.
2019 Forecast
While there is no crystal ball to tell what will happen in the future, we do have some market factors and economic conditions that we can reliably count on to keep our market strong. While double digit increases in median prices are likely behind us, the following factors suggest that we are also not on the verge of a real estate bubble.
Interest rates are at their lowest levels in over a year. As we go into our busy buying season this will absolutely be a factor for condo buyers who want to take advantage of interest rates that are likely to increase throughout the year. About 42% of condos in this segment are financed.
New construction has had a significant affect on our condo market with a surge of new buildings being completed within the past couple years. There are fewer condo projects in the works for coastal Broward county simply due to the lack of developable land on our waterfront. Buyer demand should therefore shift back to our resale condo market.
The economy is strong and wages are up. This is important as affordability becomes a concern. As long as wages keep pace with price increases, then buyer demand for property will remain strong, especially in the lower price ranges. The real bargains for buyers may ultimately be in the upper price ranges where excess inventories will force sellers to lower their prices.
More and more people from around the world and across the country are calling Florida home. Our state has become one of the most popular places to live due to our desirable year round climate and favorable tax structure. Demand for property should stay strong as Florida's economy continues to flourish and more businesses move to our Sunshine State.
For further analysis, or to request a custom Local Market Watch report, please contact one of our REALTORS®.
Check out our Single Family Waterfront Report