Wonderfully Tropical and Easy Desert
Chef Tip:  "I mixed Zing Zang Brand Margarita Mix and Silver Tequila (try Hornitos 100% agave) according to the Zing Zang directions for making a margarita.  I doubled the recipe so I could sip on a margarita while the cake was baking!  It's a perfect proportion for this cake."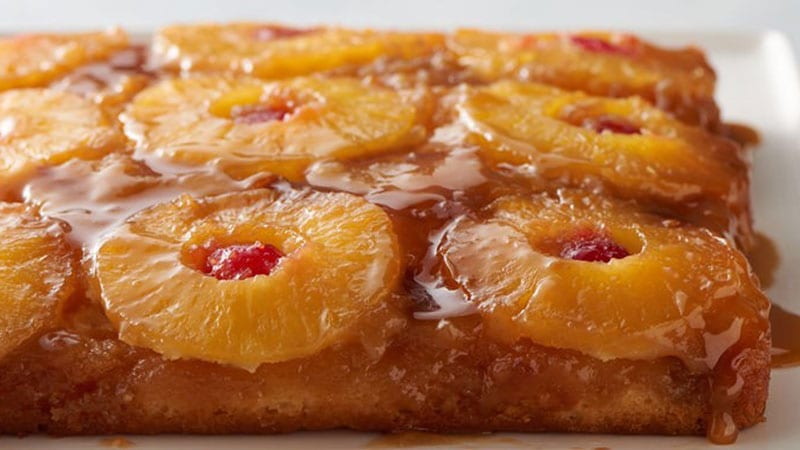 Ingredients
1-1/4 cup key lime margarita **See my tip above
1 cup packed light brown sugar
20 ounce can juice-packed pineapple rings, drained (reserve juice)
6 ounce jar maraschino cherries without stems, drained
1 package yellow cake mix
1/3 cup vegetable oil
3 large eggs
Instructions
Preheat oven to 350˚. Lightly spray a 9 x 13 inch baking pan with baking spray. In a small bowl stir together 1/4 cup of the margarita and brown sugar. Spread this mixture over the bottom of the pan. Arrange pineapple on top of the sugar mixture. Place a cherry in the center of each pineapple ring. Arrange remaining cherries between rings.
In a large bowl, beat together cake mix and remaining 1 cup of the margarita, oil, and eggs until smooth. Carefully pour batter over the pineapple and cherries.
Bake for 40-45 minutes or until tested for doneness. Run a sharp knife around the edges to loosen from pan. Place a platter down on top of baking pan. Carefully turn platter and pan over. Allow pan to sit on top of cake for 5 minutes so the brown sugar topping can drip over the cake. Remove pan and cool for a minimum of 30 minutes. Once cooled, you can eat right away or refrigerate for up to 4 days. You can serve with whipped cream if you would like.