Delicious with Key West Pink Shrimp or Florida Lobster
I fell in love with Thai food 25 years ago when I first visited Thailand and with the exception of some curry recipes my favorite dish to make is Pad Thai. I've tried several versions over the years, but this is what I settled on as my favorite. I've made it with chicken, shrimp or even Florida lobster tail when it's in season. I like it spicy so I always add jalapeno and extra sriracha hot sauce. This recipe is easy and as good as any local Thai restaurant in my opinion.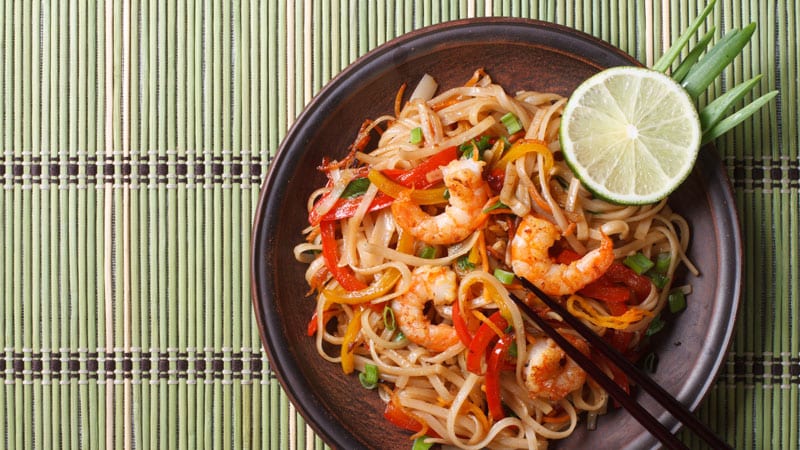 Ingredients
8 ounces thin rice noodles
3 Tablespoons coconut oil
3 cloves garlic, chopped
8 ounces Key West pink shrimp (whole) or fresh spiny lobster (in season, cut into small pieces)
2 eggs, beaten
1 cup bean sprouts
1 red or yellow bell pepper, julienned
1 jalapeno pepper, chopped (optional)
3 green onions, chopped
1/2 cup peanuts or cashews, mashed into big pieces
1/2 cup Fresh cilantro, chopped
2 fresh limes cut into halves or wedges
Pad Thai sauce:
3 Tablespoons fish sauce
1 Tablespoon soy sauce
5 Tablespoons light brown sugar
2 Tablespoons rice vinegar
2 Tablespoons Sriracha
2 Tablespoons peanut butter
Instructions
Cook the rice noodles according to instructions until al dente.  Rinse under cold water and set aside.
Whisk the sauce ingredients together. Set aside.
Heat 1½ tablespoons of coconut oil in a large saucepan or wok over medium-high heat.
Add the shrimp or lobster, bell pepper and jalapeno. The shrimp will cook quickly, about 2 minutes on each side, or until pink. If using lobster, don't overcook or it will get tough.
Push everything to the side of the pan. Add a little more coconut oil and add the beaten eggs. Scramble the eggs, breaking them into small pieces with a spatula as they cook.
Add noodles, sauce, bean sprouts and peanuts to the pan (save some peanuts for garnish). Toss everything to combine and only cook for another minute or so.
Top with green onions, extra peanuts, cilantro and lime wedges. Serve immediately and squeeze some fresh lime on top right before eating. Yum!