Investing in Real Estate with a Self-Directed IRA
Most of us have investment accounts that are designed to save money for our retirement, the most common being 401k plans and Individual Retirement Accounts (IRA). Traditionally investors have chosen stocks, bonds, CDs and mutual funds as part of their retirement portfolios, but with a self-directed IRA you are not limited to these types of investments. Increasingly investors are funding their IRAs with non-traditional investments like real estate.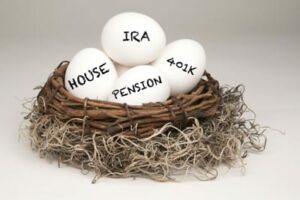 Is a Self-Directed IRA Right for You?
The first question you should ask yourself is whether or not you want to take a more active role in your retirement planning. Investing in real estate, whether for retirement or not, requires more time, resources and expertise than more traditional investments. Even if you have a trust worthy team of professionals on your side (and you should) plan on spending more time on this type of investment. Most traditional financial institutions and advisors do not offer these services (and don't get paid for them), so don't be surprised if they advise you against it. They don't call it "self-directed" for nothing.
Real Estate Investment Options
When most people think about real estate investments they think about residential income property, or "long-term rentals". While investing in a single family home or condo rental is the most popular and arguably one of the easiest ways to invest in real estate, there are plenty of other options. Other real estate investment options include multi-family (2 or more residential units), vacation rentals, office space, retail, lodging, self-storage, and industrial. Without getting into too much detail about each of these sectors I suggest you take a look at each one of them and decide which is right (or wrong) for you. The good news is that the IRS does not really care what type of real estate investment you have as long as you follow their rules.
Following The Rules
Make sure you understand the IRS rules for self-directed IRAs or you could risk an immediate distribution as well as some penalties. One of the most important rules is that you and your family cannot "indirectly benefit" from the investment. For example, if you purchase office space you cannot lease that space back to your own business. Or, if you purchase a condo to be used for vacation rentals you and your family (siblings excluded) cannot stay in the condo, not even for a single night.
Following the rules does not have to be difficult. Make sure you discuss your investment strategy with your attorney, accountant and a real estate broker who understands real property investment principles. Even more important, be sure to choose an experienced custodian to manage your account. Our clients prefer the larger more experienced companies like Equity Trust because of their experience in this specialized investment and their affordable fee structure. Good luck and have fun taking control of your retirement funds.