We've seen hot markets in South Florida before, but this time it's different, and for those of us working hot waterfront markets like Fort Lauderdale and Pompano Beach we can tell you that this isn't going away anytime soon. Why are we so confident?
7 Reasons The Real Estate Boom Will Continue in South Florida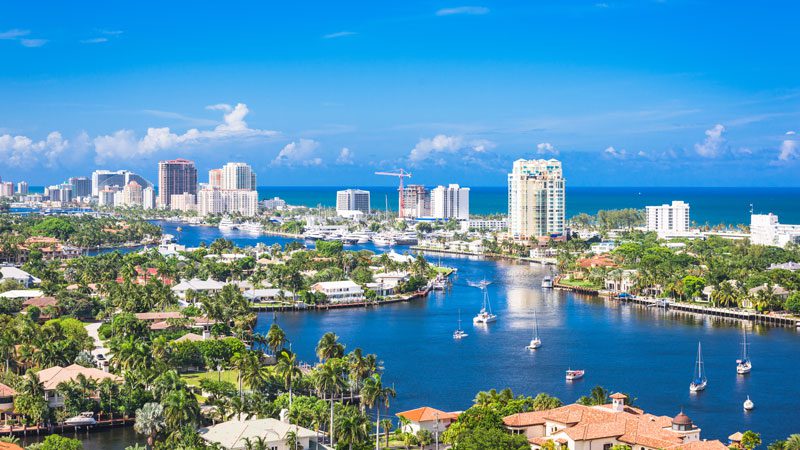 1. Unprecedented Demand Keeps Inventory Low
Inventory levels remain historically low in South Florida, especially in more affordable single family and waterfront single family segments. The problem is not available listing inventory; the problem is unprecedented demand for available inventory. Homes hit the market and are gone within days and sometimes within hours. This demand started pre-pandemic with migrations to South Florida on the rise for many years, mostly due to our weather and favorable tax structure. The pandemic and lock downs in other parts of the country fueled this demand even further. Read the August Market Watch
2. The Pandemic Affect
Yes, the pandemic and locks downs around the country caused more people to migrate to South Florida, some of those migrations being temporary, but many more are permanent moves. As the mystery surrounding Covid-19 continues people will continue to flock to South Florida where you can dine outdoors and swim in the ocean year round.
3. Freedom of Working Remotely
One of the indirect effects of the pandemic is that workers were forced to work remotely and companies are now increasingly allowing their staff to work from home on a permanent basis. This means workers can live wherever they want so why not move to Fort Lauderdale or Palm Beach where you can go for a walk on the beach before starting your work day?
4. More Primary Residence Sales vs. Second Homes
Our real estate market in South Florida has always included a large percentage of second home, vacation and investment property ownership. Second home ownership in the state has contributed to larger fluctuations in our real estate values. We are now seeing more people moving their businesses and families here, and making Florida their permanent home. According to the US Census, the population of Broward County has increased by about 200,000 since 2010, an increase of 11.7% and Florida's overall population has increased over 14%. Sure, Florida will always be a popular place to have a vacation home, but with more primary residents moving to the state we should see more stability in our real estate market.
5. Florida is Pro Business
Florida is attracting businesses from all over the country, especially companies in the banking, financial and technology sectors. Big names considering Florida for expansion include KPMG, Blackstone, Goldman Sachs, Amazon and Windstar. And, with no state income tax in Florida, more executives are motivated to move or expand their operations here. In addition, Florida has the 2nd largest foreign trade zone in the country, a growing transport network and a large workforce supported by an excellent higher education system.
6. Jobs and Wages on the Rise
With more companies flocking to Florida, available jobs are on the increase, unemployment is almost back to pre-pandemic lows and wages are increasing. As of June 2021 the unemployment rate in Broward County was 5.7%, which is a whopping 8.3% drop from the previous year. Florida's overall unemployment rate is at 5%, down 6.6 points in the past year. There is good news for hourly workers as well, with the state's minimum wage set to gradually increase to $15/hour by 2026.
7. South Florida is Still Affordable
Yes, real estate prices have gone up in South Florida, just like many parts of the country during the economic recovery. However, when you consider where many of our new residents are coming from, our market is still relatively affordable. According to Zillow, the typical home value of a single family home in Fort Lauderdale is $590,000 as of July 2021. In comparison, typical home values in Boston are $746,000; in New York they are $783,000; and in San Diego they are almost double our values at $1,040,000. And its not just home prices; the cost of living in general is 20% lower in Florida than California.
Summary
Bottom line, the real estate market in South Florida is booming, and we expect a strong market for years to come. The question is, how long can this last? If you're a buyer hoping for prices to drop, I wouldn't hold your breath. As long as interest rates remain low it's still a good time to buy. If you're a seller thinking of selling, then it could be a good time to step up, or even better, sell that single family home and find a nice condo on the beach. Opportunities for buyers and sellers are everywhere. Just make sure you have a good agent who can help you navigate this challenging real estate market.