Susan's Twist on a Family Favorite
Deviled Eggs are always a favorite at any gathering at my house. My friends and family always demand
that I make them the same way my grandmother made them. I added my own twist with the addition of
the Crab Meat topping. Whether they're served as part of an Easter spread, as a party or potluck
appetizer, or game day snack, they're sure to disappear quickly.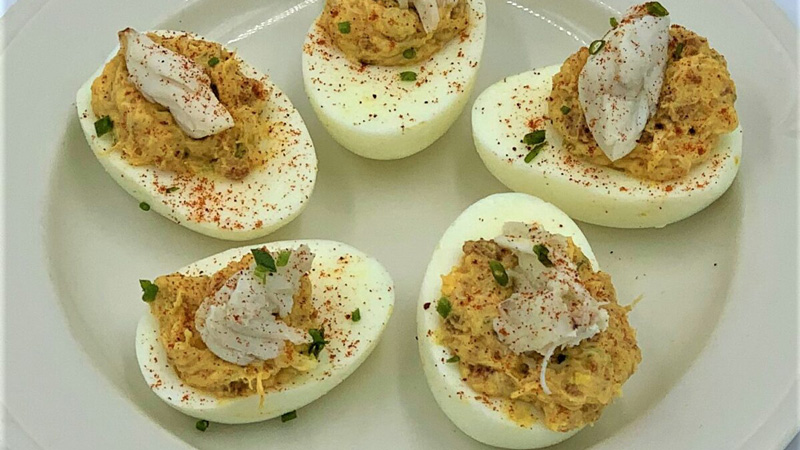 Boil the eggs ahead of time and stash them in the fridge to make assembly quicker. Double the recipe if
you're serving a crowd.
Ingredients
6 large eggs
3 to 4 tablespoons mayonnaise
1/2 teaspoon prepared mustard
1/4 teaspoon salt or seasoned salt blend)
1/8 teaspoon ground black pepper, or to taste
1/2 teaspoon sugar, or to taste
1/4 teaspoon Old Bay Seasoning (or Paprika), or to taste
6oz can of crab meat
Directions
Gather and measure out all of the ingredients
Put the eggs in a medium saucepan and cover with about an inch of water.
Cover the saucepan and bring to a full boil over high heat. Leaving the cover on the pan, remove from the heat, and let stand for 17 minutes.
Transfer the eggs from the hot water and into a bowl of ice-cold water and let cool completely.
When the eggs are cold, peel under the water in the bowl or under running water.
Slice the eggs in half lengthwise and set on a platter or egg plate. Scoop the yolks into a medium bowl.
Mash the yolks with a fork, then add the mayonnaise, mustard, and salt or seasoned salt and sugar.
Taste and add black pepper and more salt or sugar as needed. Add more mayonnaise, if desired. These should be a bit on the sweet side
Using a small spoon or cookie scoop, fill the egg white halves with the yolk mixture. Alternatively, you can pipe the filling into the egg whites using a wide nozzle.
Place a good amount of crab meat on each egg.
Sprinkle the eggs lightly with paprika before serving. Enjoy!