Fall, Football & Chili!
This autumn-inspired chili is a favorite in our house. Don't let the pumpkin fool you, it's not sweet at all. Favorite toppings are avocado, shredded cheddar and crumbled tortilla chips.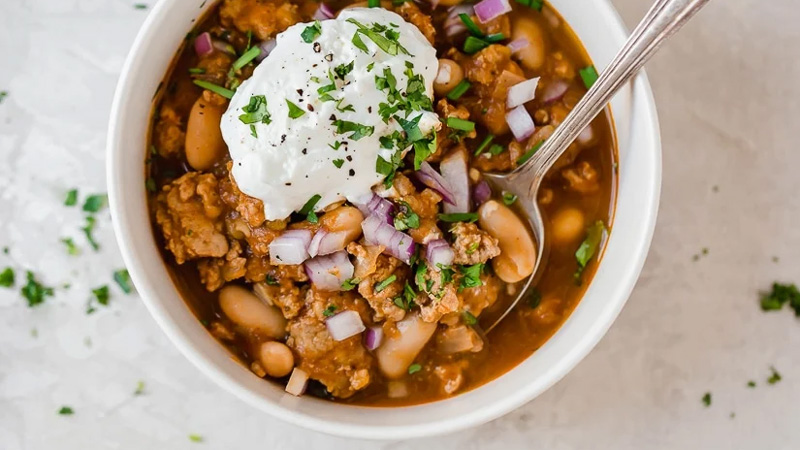 Ingredients
2 lbs lean ground turkey
1/2 teaspoon olive oil
1 small onion, chopped
3 minced garlic cloves
1 teaspoon chili powder, to taste
2 bay leaves
1 1/2 tbsp cumin
2 15 oz cans white northern or navy beans, rinsed and drained
15 oz can pumpkin puree
4.5 oz can chopped green chile
2 cups low sodium chicken broth
Salt and Pepper to taste
Instructions
Heat a large skillet over high heat and lightly spray with oil.
Add meat and cook, breaking it up until white, about 5 minutes.
Add oil to the skillet, then onions, garlic, sauté about 3 – 4 minutes; add cumin and sauté another minute.
Add beans, pumpkin puree, green chilis, broth, chili powder, oregano, and bay leaves. If transferring to crock pot, cover and cook on high for 4 hours or low for 8 hours. If stove top, cook on low for 3-4 hours.
Remove bay leaves and adjust seasoning to taste before serving.
Try these delicious topping options: chopped cilantro, red onion, chives, avocado, jalapeno pepper, low fat sour cream, shredded cheese