As a REALTOR here in South Florida I work with many buyers who are considering a second home or primary residence near the beach, some of whom are not sure where they want to live. We have so many beautiful beach locations, all with subtle differences. Most areas offer outdoor dining options, shopping and water sports. That being said, each beach area has different features and amenities that appeal to different people. Bottom line, we definitely have something for everyone!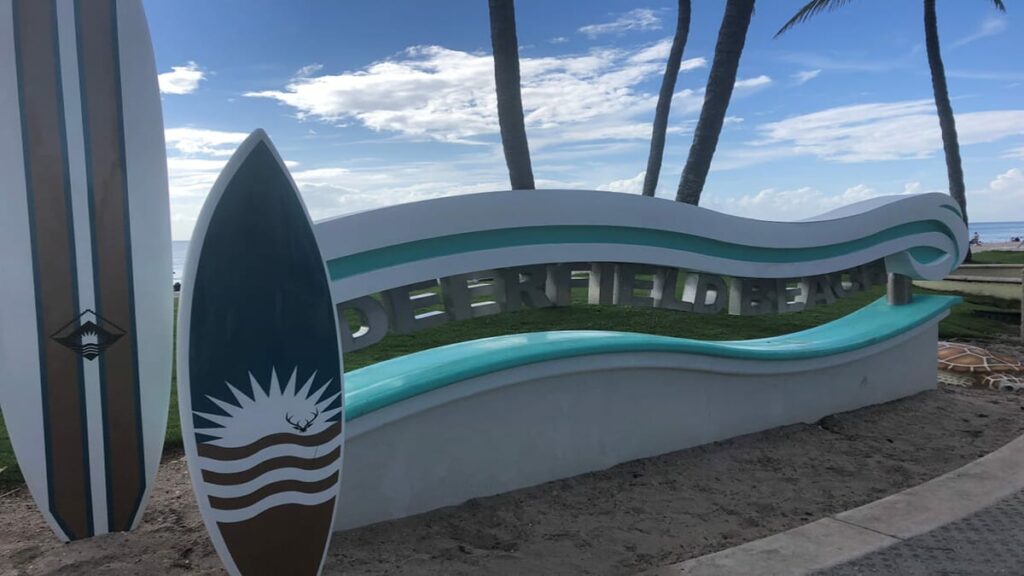 Deerfield Beach
Let's start in Deerfield Beach, the beautiful "Blue Wave Beach" and the home of the International Fishing Pier. Anytime there is a fishing pier you can expect to find more activity, but Deerfield Beach doesn't feel crowded and is a great place to relax and enjoy the beautiful blue water. If you have a more active lifestyle you may want to find a beach volleyball game, maybe take some surfing lessons or go snorkeling. There is also a paved stone boardwalk that runs along the beach where you will see many people walking or riding their bikes in the mornings, or just hanging out under the public Tiki huts. This is also a popular beach for watching the sunrise.
Deerfield Beach has many great restaurants and bars that offer live music. Enjoy oceanfront dining at JB's and Ocean's 234 right near the fishing pier. The Patio Bar is a great place to people watch as you look out onto the beach and the ocean. Just off of the beach across A1A you will find a dozen or so other dining options. Just across the bridge on Hillsboro Blvd. you'll find a Publix grocery store as well as the Cove Shopping Center with dozens more shops and restaurants, including Two Georges waterfront restaurant at the Cove. Deerfield Beach is definitely a casual beach town. Flip flops, shorts and tee shirts are welcome in most if not all of the restaurants and bars and the parking garage on AIA is close to everything. Deerfield Beach is also home to many annual events like the 4th of July fireworks and the Boots on the Beach country music festival.
Pompano Beach
Next let's head South to Pompano Beach. The Pompano Beach Fishing Pier is about a 20 minute drive South from Deerfield Beach. In recent years the beach area of Pompano Beach has undergone a major transformation. The pier was completely redone and just re-opened in 2020. The new pier is now the center for a very active and walkable area with new restaurants, bars and and plenty of parking in the new parking garage. The beaches in Pompano Beach are wide and full of shells! For some reason this is one of the best spots for shell collectors. The all new beach pavilions, parks and landscaping look absolutely beautiful and make this a very attractive beach area.
This area has some great new casual dining restaurants like The Beach House and Lucky Fish Beach Bar and Grill, both with great views of the ocean. You will also find some longtime local favorites like the Briny Irish Pub and the Sands Harbor Bar and Grill on the intracoastal, where you can also hop on the Pompano Beach Water Taxi. It's a perfect way to relax and cruise the waterway past beautiful homes while enjoying the waterfront and boat traffic. If you are looking for something a bit more upscale for the beach try The Oceanic or Houston's Steakhouse just across the bridge. The Oceanic has a great menu and an awesome oceanfront bar. Houston's is right on the Intracoastal waterway with nice views outdoor dining that cools off in the afternoon. Grocery shopping can be done at Publix, just across the bridge where you will find more shopping and dining options.
Lauderdale-by-the-Sea
A bit further South is Lauderdale By The Sea where at the East end of Commercial Blvd you will find Anglin's Fishing Pier and the center of town, which is loaded with restaurants and bars. Lauderdale By The Sea has beautiful, wide beaches great for sunbathing and in water activities. The town has a Shipwreck Snorkel Trail off the Datura Avenue beach portal where you can enjoy snorkeling and scuba diving. The trail, which has concrete cannons and a ballast pile in a sandy bottom, is located in only 10 feet of water. Just a bit further off-shore is an amazing coral reef where you can see tons of fish and other sea creatures! As you leave the beach, check out Anglin's Square where you can sit and socialize in Adirondack chairs with friends and family. Here you will be surrounded by live music and busy restaurants offering many different dining options.
Most restaurants offer outdoor dining as an option and many offer breakfast, lunch and dinner. Some of my favorites are Ocean 101, The Village Grille and Pump, and Taco Craft Taqueria and Taco Bar. Lauderdale-by-the-Sea is definitely a super casual beach town with plenty of activity and attractions. Head east on Commercial Blvd. for access to dozens more shops, restaurants and bars. Many of the condos and hotels are right on the sand with private beach access. There is also a local shuttle bus called The Pelican Hopper, a great way to get around without driving. The daily shuttle takes about 45 minutes to make a complete run from Publix Supermarket in town to Galt Ocean Mile before heading north to Terra Mar Island and then returning to Publix. Lauderdale By The Sea has lots of main events in the downtown area, popular with locals and visitors alike. Friday nights in season you will likely see the traffic blocked off in the square where restaurants have outdoor bars and live music. Other events include 4th of July fireworks and Christmas By The Sea. Lauderdale-by-the-Sea has something for everyone.
Any one of these beaches would be a great place to call home! White sandy beaches, blue and turquoise waters and palm trees swaying in the breeze make these beaches an exceptional place to live and work.