Grouper season opens May 1st on Florida's Atlantic coast, so our local fishermen will once again be targeting this popular and great eating fish. Grouper has a hearty, but light meat and is very family friendly (kids love it) because of its mild taste. Florida is home to many different types of grouper, including the common gag, black and red grouper. Most are great tasting and are commonly seen on restaurant menus in the form of grouper sandwiches and grouper fingers.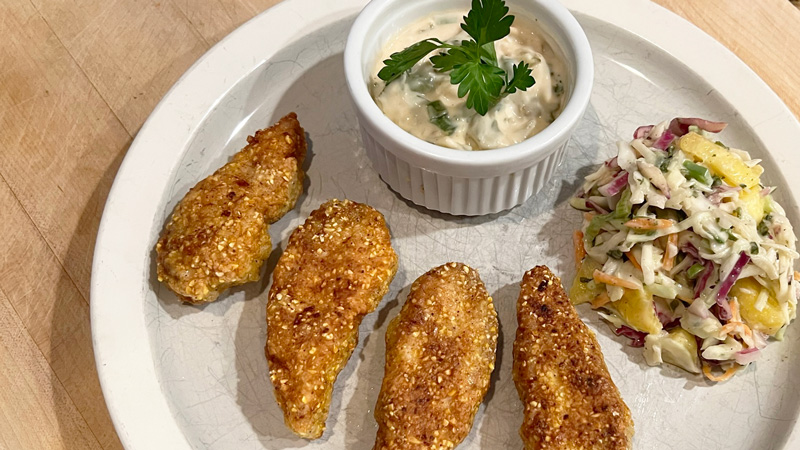 The following recipe is for grouper fingers, but you can easily fry the whole filet with the same recipe and make yourself a delicious sandwich. You can deep fry if you have a deep fryer, but I prefer to shallow fry in a frying pan with healthier oils like olive and avocado. Grouper fingers make a great appetizer, or you can serve them with coleslaw and/or beans and rice for an entrée.
Ingredients
1 1/2 pounds Grouper fillets
1 cup flour
1 cup cornmeal
2 eggs beaten
1 tablespoon Creole seasoning (Zatarain's, Tony Cachare's or Slap Ya Mama)
Hot sauce
Olive or avocado oil
1 cup light mayonnaise
1 cup low-fat Greek yogurt
4 tablespoons minced sweet pickles (or dill pickles)
2 tablespoons Pickapeppa sauce
2 tablespoons minced green onion
1/4 cup fresh lime juice
1 tablespoon minced fresh parsley
Directions
Caribbean Tartar Sauce
I like a lighter tartar sauce, so this recipe uses half Greek yogurt, but you can use all mayo if you want. Mix the last 7 ingredients together well in a bowl, cover and place in the refrigerator for at least an hour. You can make it a day or two in advance if you want.
Grouper Fingers
Cut the grouper into fingers about 1/2 inch thick. Marinate the fingers in buttermilk for about 30 minutes and then pat dry the grouper with a paper towel. It is very important the the fish is dry so the breading will stick to it.
You will need 3 bowls for the breading. Put 1/2 cup of flour in the first bowl. Beat the eggs and put them in the second bowl with a couple dashes of hot sauce (optional). Mix the cornmeal, Creole seasoning and remaining flour in the third bowl.
Dip the fish in the flour shaking off the excess, then dip it in the egg and then finally into the mixture of cornmeal, flour and seasoning. Set the fish on a plate or wire rack to dry.
Add the oil to a frying pan and heat to about 375 degrees.
Gently add the grouper fingers one at a time to the pan while maintaining the heat. Fry the fish for about 2-3 minutes per side until golden brown and crispy.
Remove the fish and drain on a wire rack or on a plate covered with paper towels.
Serve warm with tartar sauce and lemon garnish.
Other Serving Options:
Grouper Sandwich
Arrange fingers on a brioche bun with lettuce, tomato and tartar sauce. Serve with fried tostones. The tostones recipe is included in our ceviche recipe here.
Grouper Finger Entrée with Pineapple Coleslaw
Serve the grouper fingers with tartar sauce, coleslaw and red beans and rice. Try this easy pineapple coleslaw recipe:
Ingredients
3/4 cup light mayonnaise
2 tablespoons sugar
1 tablespoon pineapple juice
1 tablespoon lime juice
1/2 tablespoon apple cider vinegar
Salt and pepper to taste
1 (16 oz.) bag of coleslaw mix
1/2 cup chopped green onion
1/3 cup chopped red onion
1/4 cup chopped cilantro
1 jalapeno chopped with seeds removed
1/2 cup chopped fresh pineapple
Directions
Mix first 6 ingredients together to make the sauce. Add remaining ingredients and toss well. Store in refrigerator until ready to serve, up to 2 days.