When the real estate recovery started over 3 years ago it was hard to accept the good news, especially since we were still in the middle of a recession. Looking back, the real estate crash is far behind us, but the overall economy is arguably still on shaky ground. So, whenever I share good news about the real estate market I still get a bit of skepticism, but the facts don't lie and the news is still good, at least for now.
S&P/Case-Shiller Home Indices – Miami/Fort Lauderdale Up 7.74% in June
One of the leading indicators of the broader real estate markets is the S&P/Case-Schiller Home Price Indices. Their 20-city composite data showed nationwide home price gains of 4.98% in June 2015 over the same month last year. The Miami/Fort Lauderdale market outperformed the national market gaining 7.74% over last year.
REALTORS® Confidence Index Expects 5% to 6% Increase in Florida
The National Association of REALTORS® Confidence Index is based on data collected in a monthly survey of 2,910 REALTORS® across the country who on average report expected price increases of 3.6% in the next 12 months. Florida is outperforming this index and is one of only 2 states with expected price increases of 5% to 6% or more.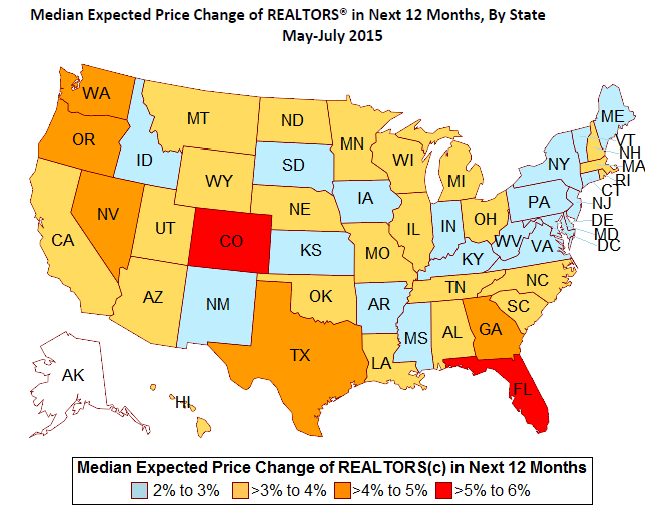 Broward County Single Family Median Prices Up 6.7%
Looking at single family home sales in Broward County for the first 6 months of 2015, volume is up 9.8% over last year and median prices are up 6.7% with the median home in Broward County selling for $282,500. The Greater Fort Lauderdale REALTORS® Association reports that new inventory in July was up almost 5% over last year, but with only 4.6 months of supply the market continues to favor home sellers, so median prices should continue to rise, at least in the short term.
What About Interest Rates?
For you skeptics, keep an eye on mortgage interest rates. As rates rise (it will happen), the monthly cost of servicing a jumbo mortgage could push some marginal buyers out of our marketplace. The ultimate effect on median prices could take years, but keep an eye on those rates if you plan to buy or sell in the near future.