Median Price Increases and Record Low Inventory Continue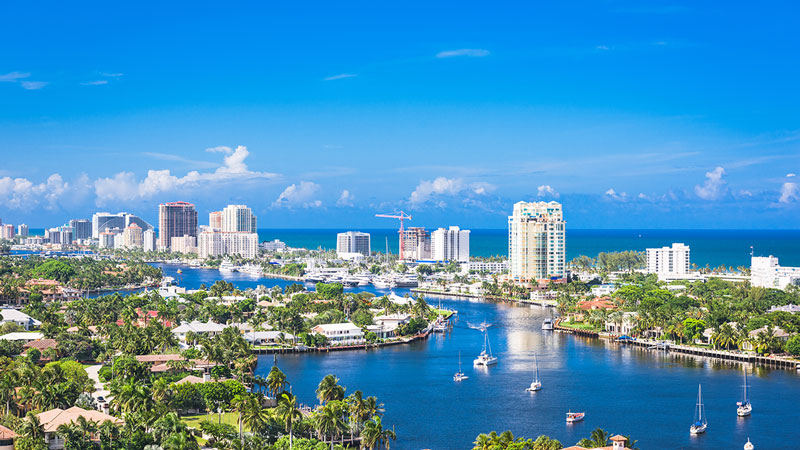 Market: Northeast Broward County – This report covers Northeast Broward County including Fort Lauderdale, Pompano Beach, Lighthouse Point, Lauderdale-by-the-Sea, Hillsboro Beach, Deerfield Beach, Oakland Park and Wilton Manors.
What to expect in 2022
As we enter the peak of our busy winter season in South Florida, we can't help but look back at 2021 in amazement. Prices skyrocketed in every category as supply was absorbed at record levels. January is typically a month where we replenish inventory, but this year the inventory is slower to get to market. Perhaps the recent spike in Covid cases has slowed things down, or perhaps sellers are confident that prices will continue to rise.
No matter what the cause of the current supply shortfall, buyers in this marketplace are scrambling to purchase available inventory and patiently waiting for the supply to catch up to this unprecedented demand. However, we are confident we will see more inventory soon since February and March are typically strong months for adding new listings.
Sellers are hoping to capitalize on rising prices, but they shouldn't expect the double digit increases in median sales prices that we had last year. We certainly won't see prices to go down either, but we do expect 2022 price increases to return to the single digits. Bottom line, it will remain a strong seller's market where multiple-offer scenarios will still be commonplace for South Florida home buyers.
How did we get here?
It is simple economics really. Housing supply cannot keep up with the significant increase in demand. The following chart shows Active Listings vs Closed Sales over the past two years. We started 2020 with just under 4,000 active listings (about average) in NE Broward County and about 400 closed sales. We ended 2021 with less than 1,500 active listings and about 700 closed sales, which is well above the average of 500 monthly sales in the previous 2 years.
Inventory is down about 65% from 2 years ago and monthly closed sales are averaging about 50% higher than normal.
Waterfront Inventory and Median Prices
Waterfront property is what Fort Lauderdale is famous for. Our beaches are lined with beautiful condo buildings "on the sand" and our Intracoastal Waterway connects thousands of single family homes with the Atlantic Ocean. Both of these market segments are "on fire" right now, especially in the lower price ranges. Lets take a closer look at our oceanfront condo and single family ocean-access markets.
Oceanfront Condominiums
Northeast Broward County is home to thousands of condominium buildings, many of which are directly "on the sand". But walking out your back door onto the beach comes at a price these days since 2021 saw the largest absorption of condo units in recent history. Demand is high, developers are way behind and construction cost are on the rise, so inventory shortages are not likely to go away soon. Most of the oceanfront condos in NE Broward are in Fort Lauderdale Beach, Galt Ocean Mile (North Fort Lauderdale), Pompano Beach and Lauderdale-by-the-Sea. Fort Lauderdale has almost 5 months of inventory right now, the highest of the 4 markets, but it also has the most expensive price tag with a median price of $866,250. Buyers who can afford Fort Lauderdale oceanfront will likely find some deals this winter/spring season.
Fort Lauderdale Beach has the most inventory right now, but also the highest price tag. Buyers with deep pockets can find some deals in the high-end Fort Lauderdale condo market.
Single-Family Homes with "Unrestricted Ocean Access"
Fort Lauderdale is famous for its single family waterfront residences, and the most desirable are those that have "unrestricted ocean access". This means that the home has dockage and no fixed bridges between the property and the Atlantic ocean. These are especially valuable because they can accommodate larger yachts that are sometimes worth more than the home they are docked at. Compared to waterfront property in other parts of the country these homes have always been undervalued, but in the summer of 2020 the secret was out and buyer demand for these properties skyrocketed.
Buyers came from all over to get their piece of the "Venice of America" and they paid the highest prices ever for Fort Lauderdale real estate. After all, unlike condos, they aren't making any more waterfront land for single family homes. In the city of Fort Lauderdale the median price for a home with unrestricted ocean access is up 75% over last year. That may seem crazy, but when compared to other markets like New York, Boston and San Diego, Fort Lauderdale real estate is still a good value and the fact is that people just want to live here.
Bottom line, we don't expect prices to increase at the same rate. That is just not sustainable. But don't expect prices to go down either. Supply in Fort Lauderdale is over 5 months now, and the market is top heavy, so just like the condo market, if you have deep pockets then maybe you'll find what you're looking for for a "reasonable" price. Pompano Beach and Lighthouse Point still offer a relatively better value, but supply is low in both markets at around 2.5 months.
Buyers came from all over to get their piece of the "Venice of America" and they paid the highest prices ever for Fort Lauderdale real estate, as much as 75% more than last year.
Summary
We've seen hot markets before in South Florida and some who remember the past are waiting for that real estate bubble like we saw in the Great Recession. Don't hold your breath. This is an entirely different market. Buyers that want or need to purchase something should bite the bullet and get into the market. Sellers trying to maximize their profit might want to take advantage of the huge increases in values over the past year. Whether your buying or selling, make sure you have a local real estate professional on your team. This is not a market where you want to go at it alone.
BLOG: 7 Reasons the Real Estate Boom Will Continue in South Florida
Browse Our Library of Detailed Market Watch Reports for Different Market Segments