Having spent lots of 4th of July cook-out celebrations in Massachusetts when my kids were little, this was always a favorite dessert of theirs.  Easy to make and transport, this is a patriotic and yummy way to end the meal!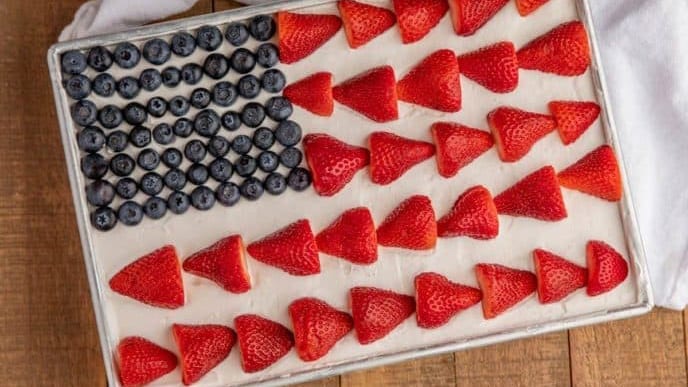 Blueberries: The blueberries in this recipe represent the stars. They represent them not in the actual blueberries themselves but in the white spaces between the blueberries.
Strawberries: The strawberries do double duty creating the red stripes and the white stripes on the cake. You can either make the stripes by cutting your strawberries simply in half or you can thinly slice them and lay them on their side. 
I keep the strawberries simply sliced in half because they release less liquid this way which will keep the top of the cake looking beautiful longer. If you slice the strawberries thinly, be sure to dry the slices very, very well with a paper towel and serve the cake immediately after decorating.
The best part of this recipe is it takes no artistic efforts at all (you can count on that, as I have zero artistic abilities)!
Ingredients
1 box White Cake Mix (or your favorite homemade version)
16 ounces Whipped topping (or Buttercream Frosting)
1 pint blueberries
2 pounds strawberries
Directions
Bake the white cake mix according to the box directions in a 9×13 baking pan then cool on a wire rack.
Frost with your favorite topping (See notes below)
Decorate with blueberries and strawberries as shown in the photograph, with the blueberries making the stars and the strawberries making the stripes.Bottom of Form
Frosting Options:
Cool Whip: Cool Whip is what I used in the recipe because my kids loved it. Just be sure to spread it evenly and once spread put your cake into the freezer for an hour before garnishing.
Whipped Cream: In place of Cool Whip you can homemade whipped cream or the spray can version, but be aware that whipped cream that is not stabilized will not hold up after 30 minutes. I recommend using whipped cream only if the American Flag Cake will be served immediately.
Buttercream Frosting: Using this either canned or homemade is the easiest, room temperature friendly option but it is also a heavier option.